Youth Services
Where Imagination Runs Wild!
Youth Services provides library services for newborns to 12 year olds. Children 5 years or older are qualified to get their own library card.
Youth Services offers a broad range of programs, storytimes and materials bound to catch the imagination of just about any child. Along with books and audiobooks, there are also nearly 200 circulating toys, puzzles, magazines and a parent's shelf.
Storytimes
Young children find fun, enchantment and learning at storytimes. Stories, games and fingerplays introduce books and learning in a fun way.

Summer Reading Program
Join us as soon as school is out! We'll have summer reading program with weekly events for kids, reading prizes and tons of fun.
Library Events for Kids - Click for details
Get a Library Card When You Turn 5!
Get a library card.

No Overdue Fines for Library Material Selected from the Children's Department
Children's Materials Overdue Fees Waived
Although we encourage children, parents and caregivers to return their library materials on time, we are waiving overdue fines on materials selected from the Children's Department. We are pleased to offer this new policy to support young Library users in their reading journey. Lost and damage fees will still be in place.
1,000 Books Before Kindergarten
The 1,000 Books Before Kindergarten program is a preliteracy effort aimed at encouraging families to read at least 1,000 books to their preschooler, birth to age 5, before they
enter school. Families can sign-up at no cost at MorrissonReeves
Library (MRL).
How it works:
1. Register your child and receive a FREE book bag and reading notebook to take home.
2. Write down the title of each book that is read.
3. Stop in the Library and receive a prize after every 100 books read.
4. Each child who completes 1,000 books will awarded a FREE book and other milestone prizes along the way
AR (Accelerated Reader)
In the back of most of the book in the children's area you will find notations regarding Accelerated Reader information. If that information is not found in the back of the book it can be found at http://www.arbookfind.com
· GR – grade level - indicates the interest level

· BL – book level – reading level as determined by Accelerated Reader

· AR – points a quiz on the book is worth in the Accelerated Reader program
---
Explora for Elementary Schools
A student interface designed for use in Kindergarten through grade 5 with a focus on the Arts, Literature, Biography, Current Events, Geography and Culture, Health, History, Math, Science and more.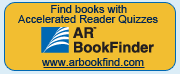 ---

Storytimes for Kids

Storytimes run from January - May and September - December.
(no storytimes June - August)
No registration is required to attend. This is a free program.

Play and Learn (0-24 months) -Tuesdays at 10:00 am
This program runs September through May
Build a love of reading and develop social skills. Lasts around 20-30 minutes!

Alphabet Adventures (2-5 year olds) - Wednesdays at 10:00am
This program runs September through May
Talk! Sing! Paint! Play! Listen to a story! Learn about the alphabet and more. Join Ms. Nancy - It's an adventure! Lasts about 35-45 minutes!

Evening Storytime (0-5 yrs) - Wednesday at 5:00 pm
This program runs September through May
A hands-on creative discovery of books, crafts, and fun. Lasts about 35-45 minutes!

Music and Movement (2-5 year olds) - Thursdays at 10 am
This program runs September through May
Enhance reading readiness and physical literacy with stories, music, and more! Lasts about 35-45 minutes!

Firefly Fridays (0-5 yrs)
Fridays | 9/7, 10/12, 11/9, 12/14, 1/11/19 | 10:00am
Talk! Sing! Paint! Play! Interact with a story! Explore an Indiana Early Literacy Firefly Award Nominee Book. It's time to have fun!

Storytimes introduce children to children's literature and provide a shared group experience for them. Storytimes acquaint children with a wide range of books, folktales and legends, and encourages development of life-long reading interests. Reading is the key to success in life. It is our goal to provide an enjoyable and rewarding experience for your children when they attend our programs and to assist them in developing a love for reading.

Story Time is a program designed as a shared library experience for children and their caregiver. The librarian will share the best in children's literature and illustration, and will enhance the story time with songs, fingerplays, and flannelboard. In addition to hearing enriching literature, we will reinforce traditional pre-school concepts such as counting, identifying colors, animal names, etc. Adults who accompany children are encouraged to actively participate as a model for their child. It is our goal to provide an educational experience that is also entertaining, and to nurture an early love of books and reading.
---
Many other programs are offered throughout the year for children of all ages. Please call (765) 966-8291 for more information.
---
Helpful Parenting Links
Color in Colorado!
English as a second language - Helping kids learn to read...and succeed. Information, activities, and advice for Spanish-speaking parents and educators of English language
American Academy of Pediatrics
AAP's mission is to be committed to the attainment of optimal, physical, mental, and social health and well-being for all infants, children and young adults.
HomeSchool World
The official site of Practical Home schooling magazine and The Big Book of Home Learning / Mary Pride's Complete Guide to Home schooling.
KidSource Online
A web site filled with information about helping your child succeed in school and life.
SuperKids
Educational reviews of software for kids to use.
The Stuttering Foundation
A non-profit organization helping those who stutter.
Dyslexia
Join us as we explore the positive talents that give rise to dyslexia, and share our knowledge about the best ways for dyslexic people to learn.
Literacy Center
The LiteracyCenter.Net serves more than a million free literacy lessons a month to children in 141 countries. It provides safe learning activities for parents and teachers to share with young children. All online lessons are free of advertising and free of charge.
Food for Tots
Features recipes, nutrition tips and cooking tools to help parents of fussy eaters or children with food allergies.
Get Netwise
The GetNetWise coalition wants Internet users to be only "one click away" from the resources they need to make informed decisions about their and their family's use of the Internet.
Nursery Rhymes and other Fun Stuff
Text versions of your favorite nursery rhymes.
---
Homework Help
Homework! - Give me a break!!
Morrisson-Reeves Library has collected many site links from around the web and other library sites. Our collection is always growing and will hopefully help you find answers and help for homework. Maybe you'll even finish quicker than you think so that you can take time to enjoy a little fun time.

The Getty Museum of Art
Large collection of art works

The Metropolitan Museum of Art
See 5,000 years of art at this famous New York City art museum

Smithsonian Center for Education & Museum Studies
Explore museum topics, visit idea labs and explore the many area of this incredible site.

The WebMuseum
Links to famous artworks and art exhibition

The Biographical Dictionary
This dictionary covers more than 28,000 notable men and women who have shaped our world from ancient times to the present day.

Famous Americans
American biographies from the American Revolution to present day

Invent NOW!
National Inventors Hall of Fame

Presidents of the United States of America
The official White House webpage of presidential biographies

Famous African Americans
Detailed biographies of 100s of Famous African Americans.

African American History
Guide to Black History & Biographies

History Timeline
See world history in this helpful resource timeline.

Hyper History
Over 2000 files covering 300 years of world history

Today in History
Historic events and birthdates. Select a day or year and get the important history that happened that day.

The Underground Railroad Information Site
Presented by The National register Travel Itinerary. Find facts, maps and more helpful information.

The Underground Railroad - Levi Coffin House
A part of the legendary Underground Railroad for fleeing slaves of pre-Civil War days, this registered National Historic Landmark is a Federal style brick home built in 1839.
Math Challenge
The whole family can take this math challenge from this interactive site.

Bill Nye the Science Guy
Great site if you are thinking of doing a science project

Ben's Guide to U.S. Government for Kids
Pick an age level and learn about Social Studies and US history

U.S. Constitution
The Constitution of the United States of America in readable text format
---